Featured Listings
Each of the Placester designs allows you to manually select listings to feature on your home page. Many agents have their own listings or office listings that they want to highlight, and this is a great way to do so. First, go to Site Settings to find the Featured Listings tab.
Dashboard > Edit Featured listings
The easiest way to access your featured listings settings is through your dashboard when you first log into your Placester site.  Click on Edit Featured Listings under Quick Actions to open the featured listings slide out.  
 If you are already in your backend menu, you can edit your featured listings by clicking on Featured Listings in the Listings section
Featured Listings Slide Out 
Within the Featured Listings slide out, you'll see two tabs, which offer different options for selecting your Featured Listings. The first tab you'll see is Filtered Listings.
Filtered Listings
The Filtered Listings tab will allow you to add criteria for your site to automatically search through your MLS and display only those listings that match your criteria. 
To start adding filters to search on, click the dropdown menu next to Add Search Criteria. Let's say you wanted to filter by Zip code. Scroll down the list to the Location section and select Zip, then click Add. This will create a field in to which you can start typing your Zip code(s). When you start typing, you'll see some suggestions. Keep typing until you see the zip you want to filter by and click on it in the suggestion box. Repeat this step as many times as necessary, then click Search. Once the search is complete, the Search Results box will display only listings from the zip(s) specified.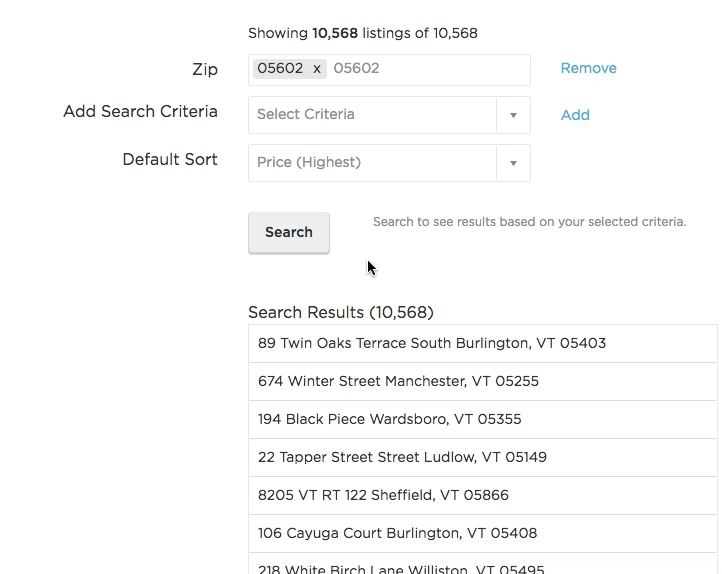 Once you've added all the criteria you want, scroll to the bottom of the page and click Save to apply your filters to your site.
Adding Multiple Filters
Add as many filters as you'd like in the same way by selecting the appropriate filter category from the "Add Search Criteria" drop down. Once they've all been added, click Search to see your results. 
You can add a combination of different types of filters. See the example below, where the site is narrowed down to one zip code, with a minimum of 2 beds, minimum of 2 baths, minimum price of $200,000 and a maximum price of $300,000. This has narrowed the total number of listings down to 21 listings after clicking Search.
The Filtered Listings tab uses an automatic process to update, so every time a new listing in the MLS matches the criteria you set, it will be added to the search results on your site.
Specific Listings
The Specific Listings tab gives you the opportunity to manually search for listings and add them to your site.
The search options are the same as on the Filtered Listings tab, but the selection process is different. Once you've added all the search criteria you want, you need to select a listing from the Search Results box and click Add to add it the Selected listings box; these listings will be the ones that appear on your site.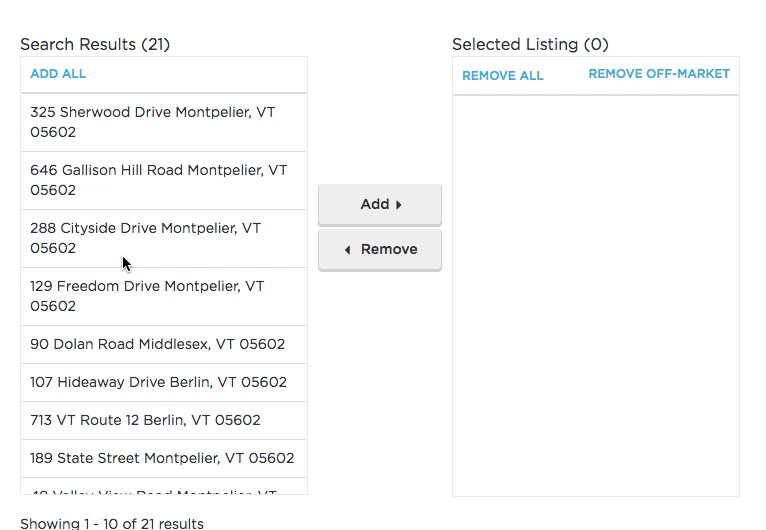 Once you've selected the listings you want to display on your site, click Save. If you want to remove a listing, select it in the Selected Listings box and click Remove.
This method requires you to manually add new listings from the MLS every time you want them to appear on your site, so you just repeat the steps above and look through the pages of found listings to add the new ones.
Changing your Default sort
By default, your featured listings will be displayed by most expensive to least expensive.  However, if you do wish to sort your listings in a different order, you have the option to do so.  In order to change the way your listings are sorted, click on the dropdown menu next to Default Sort.
You will then see the list of options you can sort by.
Choose which sort option is best for you, then click search to update your filters.  This order will now be reflected on the front end of your site.